Revierinformationen Segeln auf Kuba
In den 60er und 70er Jahren wurde mit sowjetischer Hilfe eine detaillierte Vermessung der kubanischen Gewässer durchgeführt und ein hydrographischer Dienst aufgebaut. Die farbigen, international (=englisch) beschrifteten und GPS-geeigneten Seekarten des kubanischen hydrographischen Institutes (ICH, Instituto Cubano de Hidrografia) genießen einen ausgezeichneten Ruf und sind den ebenfalls erhältlichen britischen und amerikanischen Karten in jedem Fall vorzuziehen. Eine Serie von 26 Karten (je ca. 16 Euro) im Maßstab 1:150.000 deckt die ganze Insel ab, daneben gibt es Detailkarten bis hinunter zum Maßstab 1:5.000. Dieses Kartenmaterial wurde auch in sieben "Chart-Kits", Sportboot-Kartensätzen mit Ringbindung, veröffentlicht. Diese Karten sind auch über deutschen Fachhandel zum Preis von je ca. 100 Euro erhältlich (Preis in Cuba ca. 50 Euro, z.B. bei Tienda "El Navegante" in der Altstadt von Havanna: La Habana-Vieja, Calle Mercaderes 115 zw. Obispo u. Obra Pia, Tel. 0053-7- 613625)
Törnvorschläge Kuba
Die Mehrzahl unserer Gäste entscheidet sich für die Segelroute zu den Korallen-Cayos des Canarreos-Archipels und zur Isla de la Juventud. Kristallklares Wasser in allen Farbstufen von blau über türkis bis smaragd, geschützte Ankerplätze vor feinen weissen Sandstränden und ein weltweit einzigartiges Schnorchel- und Tauchrevier werden durch die Versorgungsmöglichkeiten von Marinas und Häfen ergänzt.
Törnvorschlag Kuba 1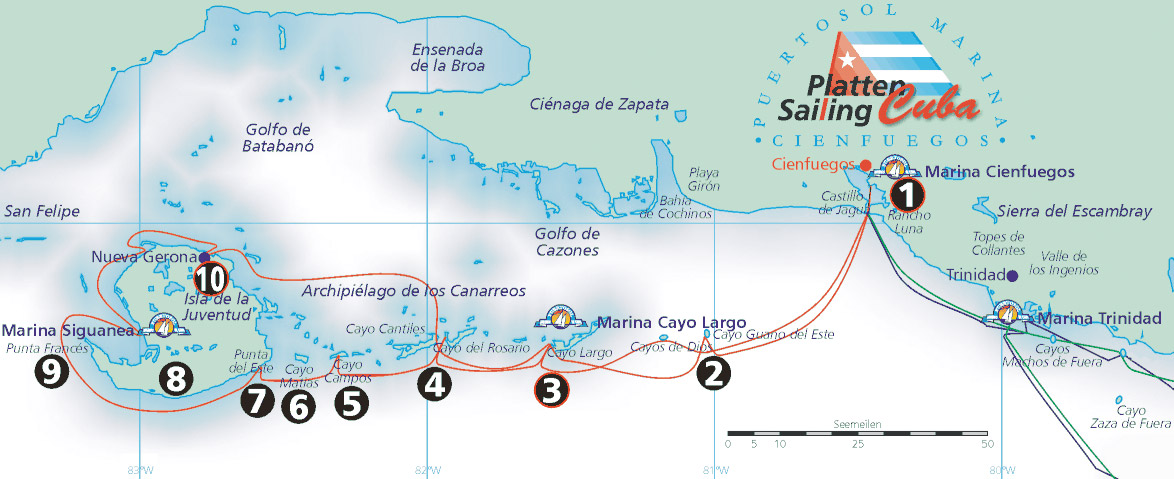 1 Cienfuegos
Historical city center (theater, cathedral, museums, shops), protected national heritage area Punta Gorda (Palacio de Valle and ancient wooden villas),
Surroundings (Castillo de Jagua, Delphinari­um, beaches, botanical garden), Excursions (Trinidad, Escambray mountains, El Nicho)
2 Cayo Guano del Este, Cayo de Dios
Lighthouse, beaches, breeding area of "bobo" birds, snorkeling the reef with a wide variety of fish and coral.
3 Cayo Largo
Fine white sand beaches, natural pools, very clear water. International tourism resort with many shops, hotels, restaurants, nightlife, diving center.
4 Cayo Rosario and Cayo Cantiles
Beaches, snorkeling. Biological reserve center of Cayo Cantiles with monkeys and iguanas. The warden will be happy to give explanations.
5 Cayo Campos
Natural reserve with lush vegetation. Observation of animal life, beach, snorkeling.
6 Cayo Matías
Wide variety of fish and coral at the reef. Visit of lobster collection center and see the everyday life of the fishermen.
7 Isla de la Juventud - Punta del Este
Prehistoric cave and rock paintings, which were discovered by a shipwrecked in 1910. (Restricted area as of 2003)
8 Isla de la Juventud - South Coast
Varied, mountainous and forested stretch of coast with interesting geological formations. Carapachibei - the highest lighthouse of Cuba.
This island of pirates and exiled is supposed to be the model for R. L. Stevenson's "Treasure Island"
9 Isla de la Juventud - Punta Frances
One of the world's most significant diving areas with 56 designated diving zones. International diving center.
10 Nueva Gerona
The capital of Isla de la Juventud is an excellent starting point for all other sights and attractions of the island (Presidio Modelo, Playa Bibijagua with dark marble sand, Finca El Abra, La Fé, Punta del Este)
11 Cayo Traviesa - Cayo Flamenco
These islands are home of a fishing and lobstering center, occasionally famigos can be seen here.
12 Diego Pérez LT - Ernst-Thälmann-Insel
Anchorage near Diego Pérez lighthouse, the a visit to Ernst Thaelmann island, symbolically donated to East Germany in 1972 by Fidel Castro. Pristine beaches surrounded by pine trees, free-living iguanas and birds.
13 Guajímico
Narrow cove in mountainous setting with a lovely, small hotel village. Restaurant, swimming pool, diving canter and natural path to caves.
14 Sierra del Escambray
Tropical mountain forest with cascades, fincas, horseback riding and more. Excursions from Trinidad or Cienfuegos.
15 Trinidad
One of Cuba's oldest cities and UNESCO world heritage site. The marina is about 15 km out of town.
16 Cayo Blanco
Small islet with daytime restaurant.
17 Cayo Bretón - Jardines de la Reina
Small channels separate this island, which is the beginning of the "Jardines de la Reina" natural park, a virtually untouched area of exceptional beauty stretching a hundred miles southeast. Flamingos, turtles, iguanas and lobster are found here as well as pirates' treasures.
1, 3, 10, 15: Places with provisioning opportunities (fuel, water, electricity, food, hotels, restaurants)
Weitere Informationen finden Sie in unserem Bereich Download.
Küstenhandbücher Kuba
Es stehen zwei ausgezeichnete Handbücher in englischer Sprache zur Verfügung, die sich in ihren Informationen bestens ergänzen, so dass beide gleichermaßen zu empfehlen sind. Beide entstanden auf Inselumrundungen der jeweiligen Autoren und sind entsprechend aufgebaut: "The Cruising Guide to Cuba" von Simon Charles enthält neben nautischen Angaben viele allgemeine, auch landbezogene Informationen in einer sehr sympathischen, persönlichen Darstellung und wird dadurch schon fast zu einem Allround-Reiseführer, enthält allerdings "nur" (allerdings ausgezeichnete) manuelle Kartenskizzen. In der Kartographie liegt die Stärke von Nigel Calder's "Cuba – A Cruising Guide", mit zweifarbigen, auf eigenen aufwendigen GPS-Vermessungen beruhenden Karten, und auch die nautischen Informationen sind hier generell detaillierter. Beide Autoren geben klar an, was auf eigenen Beobachtungen beruht und wo Informationen aus "zweiter Hand" verwendet wurden. Die Bücher sind z.B. über HanseNautic kurzfristig zu erhalten, aber auch im Programm von Internet-Buchhandlungen wie amazon.de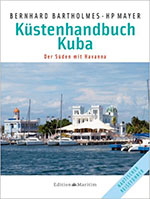 Bernhard Bartholomes - H P Mayer: Küstenhandbuch Kuba; 243 Seiten;23x15 cm; 1.Aufl.2007; Edition Maritim; Raboisen 8, Hamburg; ISBN 978-3-89225-576-5, 38 EUR (erhältlich bei uns).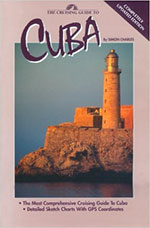 Simon Charles: The Cruising Guide to Cuba; 340 Seiten; 23x15 cm Paperback; 2.Aufl.1997; Cruising Guide Publications; Dunedin, Florida; ISBN 0-944428-36-6. $ 24,95 (ca. 31 EUR).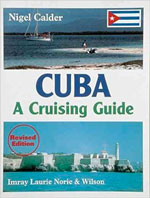 Nigel Calder: Cuba – A Cruising Guide; 260 Seiten; 28 x 21 cm Paperback; 2. Aufl. 1999; Imray, Laurie, Norie & Wilson; St.Ives, England; ISBN 0-85-288-4133. £ 30,00 (ca. 53 EUR).